Changing the world, one massage at a time…
GKMASSAGE THERAPY & BODYWORK
was created to enhance your health and well being. Whether you have pain or tightness that you want relief from, or you just want to feel relaxed and rejuvenated, you have come to the right place. Massage can be a great way to reduce stress in your body, and therefore assist in maintaining good health and wellbeing.
GREG specialises in a unique style of massage, bodywork and breath work known as Raynor Technique, that helps restore balance to the body by finding tension and releasing it, and unblocking the energy pathways known as meridians.
The techniques used at GKMASSAGE will be tailored to suit every individual, and includes Deep Tissue Massage, Acupressure, Reflexology, Sports Massage, Therapeutic, Remedial Massage, and Relaxation Massage.
This style of massage is particularly helpful in treating many of the problems suffered by sportspeople, tradespeople and people sitting in front of computers on daily basis.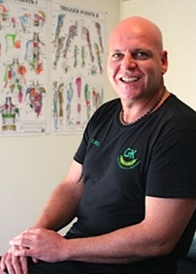 Other benefits include:

◆
Reduces stress and fatigue
◆
Improves circulation
◆
Assists in healing of injuries
◆
Aids headache and migraine sufferers
◆
Improves flexibility
◆
Improves range of movement
◆
Strengthens the immune system
◆
Can relieve muscle spasms
◆
Improves energy levels
◆
Helps restore correct alignment of the body
◆
Assists in cleansing the body of toxins and waste
◆
Benefits the circulatory, digestive, and lymphatic systems
◆
Helps prevent injuries and assists sporting performance
◆
Loosens tight joints- with particular benefit to the feet, ankles, knees, hips, back, shoulders and neck
◆
In many cases relieves pain
"As well as all the physical benefits my massages help you to relax and reduce the anxiety levels which are so prevalent in our society today."